Most mobile applications that we use in our daily life require access to GPS locations. However, there are circumstances when you might be in dire need of faking your device location. Reason can be simply for fun and entertainment or occupation-related causes.
Well, spoofing or faking GPS location is not an easy task, especially for iPhone. The absence of built-in or clear-cut options makes iOS spoofing more complex since faking GPS location invites the threat of jailbreaking. Read this guide and learn how you can fake GPS location on your iPhone without jailbreak.
Why Would You Fake Your iPhone Location?
Generally, we need GPS for navigation, location, tracking, timing, and directions. But, nowadays, we have a different state of affairs that needs spoofing the iOS location. Such as:
Extra Benefits in Location-Based Games:
Some games require traveling to various locations to avail of different benefits in-game or to collect area-specified rewards. You can avail of all these extra benefits sitting in your room all day simply by faking your iOS location.
Disable Social Networking Sites from Tracking Your Location:
Social networks such as Instagram, Facebook, and dating apps such as Tinder, and Bumble helps to connect with people from your nearby location. Misleading your iPhone or iOS location might be helpful to connect people from areas of your choice.
Strengthen GPS Signals on Your Current Location:
If the GPS signals of your area are weak, faking location from your device will improve the chances of finding you.
Any Risks to Fake GPS Location on iPhone?
Spoofing locations can be excellent and exciting. However, it is important to note that faking GPS location in iOS devices invites some severe risks. Let's have a look into the dangers that can show up while using a GPS Spoofer.
The primary risk factor is that when you run GPS faker for one particular app, the other apps using location can start malfunctioning because the GPS faker changes your device's default location.
Your geological location automatically blocks a handful of malicious websites and apps. These are government safety measures. When you fake or change your location, you indirectly allow access to these apps and websites, which undoubtedly involves threats.
Prolong use of GPS faker can lead to some performance issues in your device's GPS. These issues can persist even after eliminating the GPS faker. Harming a device's GPS can never be an intelligent act.
How to Fake GPS Location on iPhone without Jailbreak?
We already know the situations where you need to spoof the iPhone location as well as the risks. Now, Let's look into several solutions to spoof your iPhone location without jailbreak.
Tip 1: Use MobePas iOS Location Changer
iPhone is equipped with top-of-the-line security measures that are hard to crack. Fortunately, there are some third-party tools you can use to spoof your iPhone location without jailbreaking. MobePas iOS Location Changer is one such tool you can use to teleport your GPS coordinates to any target location without any hassles. With MobePas iOS Location Changer, you can easily change GPS location on iPhone, iPad, and iPod touch, including iPhone 14 Pro Max/14 Pro/14, iPhone 13/12/11, iPhone Xs/Xr/X, etc.
Follow these easy steps to fake location on your iPhone without jailbreak:
Step 1: Download, install and launch the MobePas iOS Location Changer program on your computer. From the welcome screen, tap on "Enter". Then connect your iPhone to the computer and unlock it.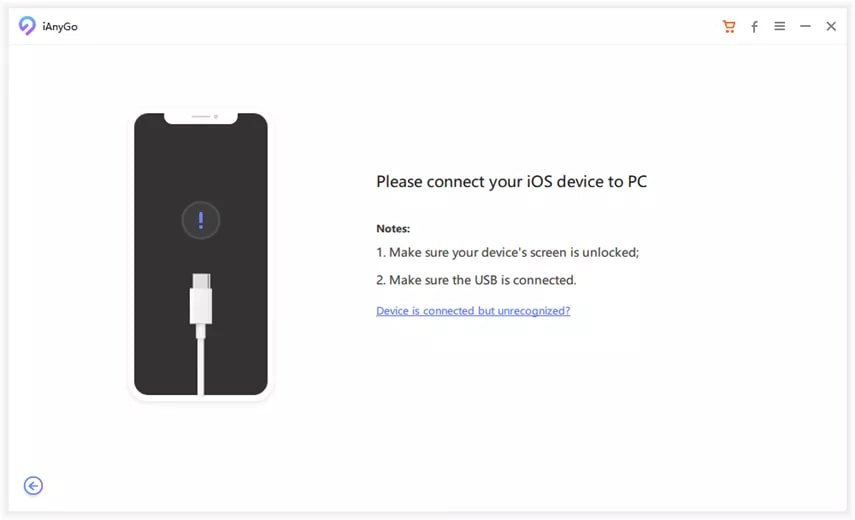 Step 2: After the map is loaded, enter the coordinates of the location you wish to teleport to in the search box. You can also place the location pointer on the displayed map.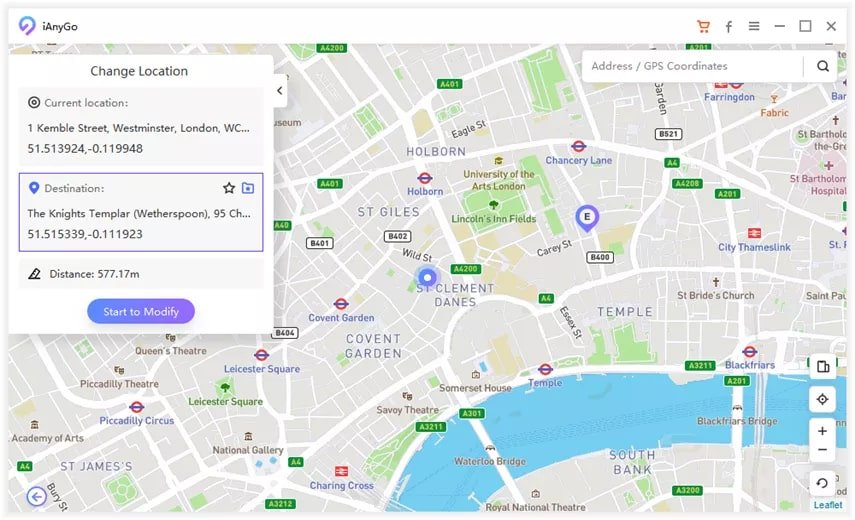 Step 3: Once you have selected the location, all you have to do is click on the "Start to Modify" button. Your iPhone's GPS location will be changed to that location immediately.
Tip 2: Use iSpoofer
Another tool you can use to fake GPS location on your iPhone without jailbreak is using iSpoofer. It is available for both Windows and Mac computers and works well with iOS 8 through iOS 13.
Step 1: Download iSpoofer from its official website and install it on your computer.
Step 2: Unlock your iPhone and connect it to the computer, then launch iSpoofer and choose the "Spoof" option.
Step 3: Now you can browse the map or search for a specific location, then click "Move" to change your iPhone's GPS location.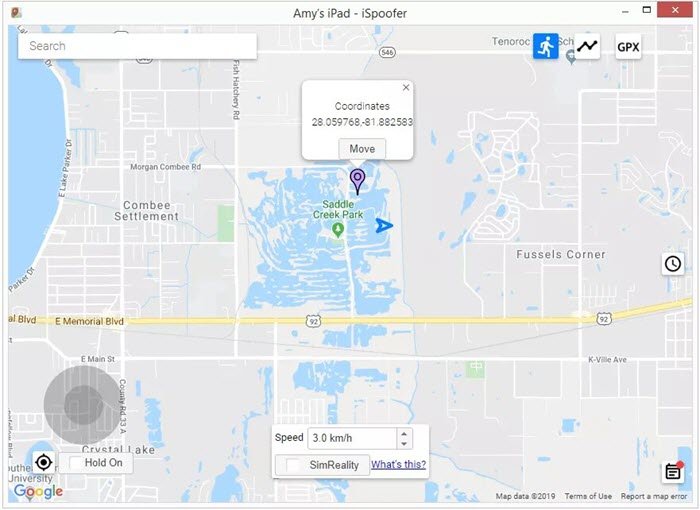 Tip 3: Use iTools
Another straightforward and easier-to-use tool for spoofing location on your iOS device would be iTools. You can use the Virtual Location feature on this desktop software to change your GPS coordinates to any desired location. It only works on iOS 12 and the older versions.
Step 1: Install iTools on your computer and launch it. Then unlock your iPhone and connect it with a USB cable.
Step 2: From the Toolbox screen, choose the "Virtual Location" option. Enter the fake location in the search box and click on "Enter".
Step 3: Click on "Move Here" to teleport your virtual coordinates to that location.
Tip 4: Use iBackupBot
iBackupBot is widely known for its unique capabilities like backing up your data while also making changes to the backed-up files. This software is viable for use on both Mac and Windows PC and is completely free. Here is how you can use iBackupBot to spoof your iPhone GPS location:
Step 1: Use a USB cable to connect your iPhone to your computer and launch iTunes.
Step 2: Click on the iPhone icon to avail more options. Ensure that the "Encrypt iPhone" box is unchecked and then click on the "Back Up Now" button.
Step 3: Now, download and install iBackupBot on your computer. After backing up all files, close iTunes and run the iBackupBot program.
Step 4: Find the Apple Maps plist file through any of the following pathways:
System Files > HomeDomain > Library > Preferences
User App Files > com.apple.Maps > Library > Preferences
Step 5: Under the block of data marked "dict," enter the following:
<key>_internal_PlaceCardLocationSimulation</key>
<true/>
Step 6: Exit iBackupBot after saving progress. Then disable the "Find My iPhone" option from Settings > Apple Cloud > iCloud > Find my iPhone.
Step 7: Reopen iTunes and then choose "Restore Backup".
Step 8: Finally, open Apple Maps and navigate to the location of your choice and run the simulation. Your GPS will be changed to that location.
Tip 5: Use NordVPN
For spoofing GPS location on your iPhone, another app you can try is NordVPN. It will assist you in faking your location on platforms like social media to make it seem like you're traveling or on a far-off vacation.
Go to NordVPN's official site to download the app and install it on your iPhone.
Complete the installation and launch the app, then tap on the "ON" button located at the bottom of the screen.
Adjust the location on the map to fake your location anywhere you want.
Tip 6: Edit A Plist File
The last method on our list of spoofing locations for iPhone without jailbreaking is by editing a Plist File. It is, however, only workable on iOS 10 and older versions. Also, you should have iTunes installed on your computer. The following steps will guide you in editing a Plist file to fake GPS location on iPhone:
Step 1: Download and install free 3utools on your Windows PC, then connect your iPhone to the computer via USB cable.
Step 2: Launch the 3uTools and it will automatically recognize your iPhone. Open the "iDevice" menu and choose "Back up/Restore", then click on "Back up iDevice".
Step 3: Select the recent backup you made from the "Backup Management" option and navigate to AppDocument > AppDomain-com.apple.Maps > Library > Preferences.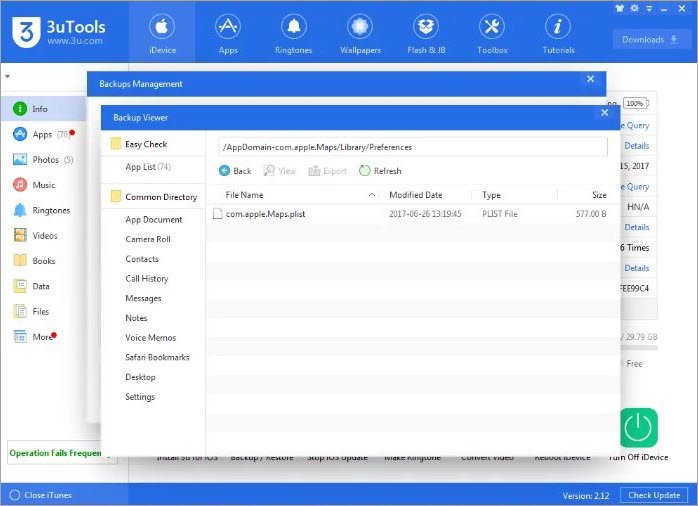 Step 4: Open the file "com.apple.Maps.plist" by double-clicking it. Before the file tagged "/dict," insert the following:
Step 5: After saving the plist file, return to "Backup Management" and disable the "Find My iPhone" option on your iPhone.
Step 6: Restore all recently backed-up files. Unplug your iPhone from your PC, then open Apple Maps and simulate the location you want to teleport.
Conclusion
The methods listed in this article should enable you to fake GPS locations on your iPhone without jailbreak. You can choose any way that you like. But our top recommendation is MobePas iOS Location Changer, which supports the new iOS 16 and makes the process extremely easy. Get this tool and start having fun faking your iPhone location.
How to Change GPS Location on iPhone without Jailbreak